Tony Blair should be prosecuted for war crimes – not just judged by history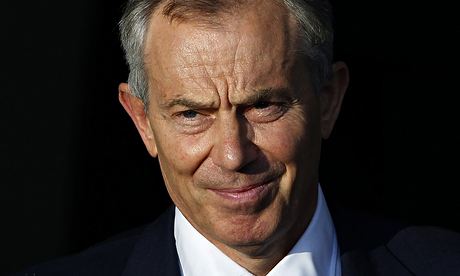 Boris Johnson's sympathy isn't worth much; his
sentiments during his LBC interview
this week were touching, but he does not have the conviction to back the campaign to see Tony Blair face justice for his crimes. Johnson does, however, offer an insight into Blair's character which I have
experienced first-hand
– that Blair is slippery. The London mayor described him as "eel-like" and a "very adept and agile lawyer". A prosecution for war crimes in Johnson's words was "not going to happen".
Currently a prosecution depends on one of two factors: its status before the International Criminal Court (ICC) or its status in domestic law. The ICC calls itself "an independent, permanent court that tries persons accused of the most serious crimes of international concern, namely genocide, crimes against humanity and war crimes". In all honesty I have no faith in the ICC bringing a conviction against Blair. The ICC has been accused of bias, and as being a tool of western imperialism, only punishing leaders from small states while ignoring crimes committed by richer and more powerful states. This sentiment has been expressed particularly by African leaders due to the disproportionate focus on their nations.
I believe our only hope of getting criminal charges brought against Blair lies at home. Yet we cannot rely on our current crop of politicians to do the right thing. They have no interest in seeing Blair face justice as it would bring more controversy to the current government on the world stage. Speaking of the Chilcot inquiry this week,
David Cameron said:
"It would be unreasonable to postpone it beyond the next election," with his eyes clearly on the prize rather than a genuine interest in justice.
Personally, I would like to see Blair brought to account for his actions while he is alive. That will send a clear message to any future politicians, both in the UK and abroad, helping to avoid another illegal misguided foray and the loss of innocent lives. Between 500,000 and 1 million people have lost their lives in Iraq (depending on which reports you believe), and with sectarian violence showing no signs of slowing down, the death toll is still
on the rise
.
The sword of Damocles is hanging over Tony Blair's head in the form of
Sir John Chilcot's Iraq inquiry report
, which unsurprisingly has faced long delays. It is going to tell the story of, what is in my mind, the most catastrophic foreign policy decision since 1956, when former British prime minister Anthony Eden misled parliament and the British public and lied to the world during the Suez crisis. Eden and Blair share several similarities: both willing to sacrifice our troops and the innocent lives of civilians in the Middle East for oil, regime change and imperialist gain.
Even if Blair uses his "eel-like" powers to avoid prosecution, like so many rich and powerful people have done before him, he will not escape the history books. The voices that protect him will slowly fade and make way for a chorus of condemnation.
It is said that great men and women live forever. They live through the lives they've touched, and the things they've accomplished. I would say this is also true for people on the other side of this fence: the villains. History will show the extent of Blair's failings, his perversions of the truth, his misleading of the world and the blood on his hands.
Tony Blair: from New Labour hero to political embarrassment
Friend of the Murdochs, adviser to authoritarian regimes and associate of the super-rich – the former prime minister's reputation is on a downward spiral. And each new revelation manages to be more jaw-dropping than the last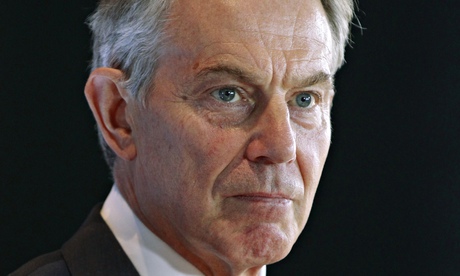 In
Tony Blair
's uneven but occasionally startling
autobiography, A Journey
, published in 2010, there is a chapter that makes particularly interesting reading now. It covers his final, slightly besieged years as prime minister, from mid-2005 to mid-2007. "In this time," writes Blair, "I was trying to wear … a kind of psychological armour which the arrows simply bounced off, and to achieve a kind of weightlessness that allowed me, somehow, to float above the demonic rabble tearing at my limbs. There was courage in [this behaviour] and I look back at it now with pride," he concludes. "I was … not unafraid exactly, but near to being reckless about my own political safety."
The chapter's title is "Toughing It Out". Last week, during the phone-hacking trial of Rebekah Brooks,
an email from the former News of the World editor emerged
, sent the day after the disgraced rightwing tabloid was shut down in 2011 and six days before she was arrested. To her then boss, James Murdoch, Brooks wrote: "I had an hour on the phone to Tony Blair. He said … Keep strong … It will pass. Tough up. He is available for you, KRM [
Rupert Murdoch
] and me as an unofficial adviser but needs to be between us."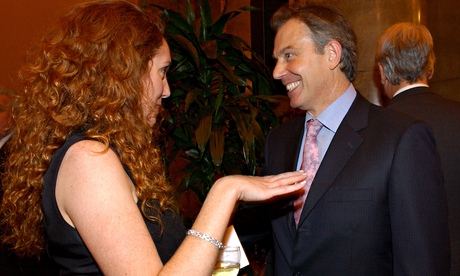 As
Labour
leader and prime minister, one of Blair's defining characteristics was his readiness – canny or disgraceful, according to political taste – to make accommodations with powerful rightwing interest groups, not least the Murdoch press. The Brooks email, the latest in a succession of sometimes jaw-dropping revelations about Blair's behaviour since he abruptly left Westminster politics seven years ago, suggested that his ease with the left's traditional enemies had in fact deepened: into an instinctive feeling that he and they were on the same side.
With his salesman's smile and large self-belief, his ex-barrister's ability to accept and argue not necessarily compatible things, Blair has always been a slippery and restless public figure. "He's kind of a freewheeler, and always was," says the historian of the Labour party Ross McKibbin. "Being a freewheeler did him well, initially." Yet since Downing Street, Blair's "journey", already often controversial, has taken him into ever more contentious territories.
In 2008, just as bankers were beginning to be seen as the villains of the world economy, he accepted an advisory post at the American investment bank JP Morgan.
According to the Financial Times in 2012
, it "pays him about £2.5m a year". In 2011, through a consulting firm he swiftly created after Downing Street,
Tony Blair Associates
, he began advising oil-rich, authoritarian Kazakhstan. "Torture remains commonplace" there, says Amnesty International.
Last month, visiting Egypt,
Blair defended the 2013 overthrow of the elected government of Mohamed Morsi
: "The fact is, the Muslim Brotherhood tried to take the country away from its basic values … The army have intervened, at the will of the people, but in order to take the country to the next stage of its development, which should be democratic." Even with those last four, slightly hedged words, Blair's argument eerily echoed that notoriously made four decades ago by Augusto Pinochet and the Chilean military, when they overthrew the elected government of Salvador Allende, an event still notorious in Labour circles: "We justify our intervention to depose a government which is illegitimate, immoral and unrepresentative of the overwhelming sentiment of the nation."
The Blair government once briefly thrilled the left by allowing Pinochet to be arrested in London. But that was in 1998; the days when even the faintest whiff of socialism clung to Blair are long gone. In A Journey, published four months after the coalition took office, he wrote: "If governments don't tackle deficits, the bill is footed by taxpayers." And: "The role of government is to stabilise [the economy] and then get out of the way." A more helpful endorsement of David Cameron's state-shrinking austerity strategy from a non-Tory would be hard to imagine.
Since 2007, during straitened times for most Britons, Blair has seemed increasingly comfortable being around – and being one of – "those with money", as he refers to the super-rich in his book with telling casualness. "Blair mixes with the Buffetts and the Gateses," says John Kampfner, author of
Blair's Wars
, "where it is seen as matter of no great surprise that you arrive in a private jet. In Blairland, there is a sense of: 'I have become part of the Davos global elite. But I haven't been able to earn properly until now.'"
Blair hotly disputes this picture of his lifestyle. "This notion that I want to be a billionaire with a yacht; I don't! I am never going to be part of the super-rich. I have no interest in that at all," he told the Financial Times in 2012. But his intricate and often secretive set of consulting and speech-making businesses – in 2009
a Blair spokesman declined even to explain the name of one of them, Windrush Ventures, to the Guardian
– have helped build a personal fortune "estimated at £70m", reported the Daily Telegraph last month. This also includes a provocative amount of property for a political figure in a crowded country currently going through one of its periodic home-ownership panics. Since moving out of Downing Street, Blair's London home has been a capacious cream and dark brick terrace in Connaught Square, near Hyde Park, with a substantial mews house behind and armed policemen perpetually guarding both. His country residence, acquired in 2008, is even grander: a
Queen Anne mansion in Buckinghamshire called South Pavilion
, with swimming pool and tennis court. His tycoon's tan and leanness suggest he enjoys both.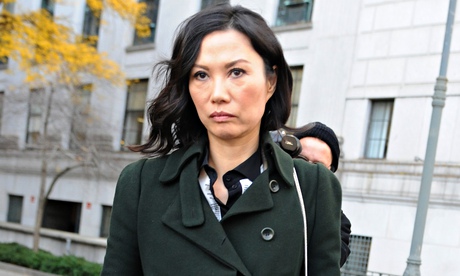 The current issue of Vanity Fair magazine quotes
an already-infamous swooning note about him
reportedly written by Rupert Murdoch's ex-wife
Wendi Deng
: "He has such good body and he has really really good legs [and] Butt …" Rumours that Blair and Deng had an affair have been around ever since Murdoch suddenly filed for divorce last summer; Blair has repeatedly denied it and Deng told Vanity Fair she would not "engage in public allegations or respond to negative claims". But there is no denying his personal closeness both to Deng and, until the collapse of her marriage, Murdoch himself. In 2010, weeks before the general election at which Murdoch's papers did their best to drive Labour from office, Blair secretly became godfather to one of Deng and Murdoch's daughters.
"You couldn't make it up," says a former member of the New Labour inner circle. "Just when you thought Tony's behaviour couldn't get any more bizarre … His actions would be strange even for the most dyed-in-the-wool capitalist ex-prime minister, but for a Labour one, I think it looks terrible. It makes mugs of many of the people who supported him in office. He's trashed the New Labour brand."
Other Labour ex-premiers have embarrassed the party. Harold Wilson became a famously disastrous chatshow host; Ramsay MacDonald led a Tory-dominated coalition and was expelled from the party – Blair has not done anything so traitorous, so far. Yet McKibbin says that all of them "had a different attitude to money. Wilson was pretty poor when he died. [Jim] Callaghan had quite a nice farm, which he retired to." Even the derided Gordon Brown's near-silence since losing office looks steadily more dignified with each controversy about Blair's new career.
In fact, it does have some high-minded elements. His website lists the
Tony Blair Faith Foundation
("to promote respect and understanding about the world's major religions"); the
Tony Blair Sports Foundation
("to increase participation in sport … particularly by those who are currently socially excluded"); work on "African governance" and "breaking the climate deadlock"; and his role as representative of the international quartet, on behalf of the UN, EU, the US and Russia, to try to find a peaceful settlement between Israel and the Palestinians.
Blair is not paid for any of these roles, which generally receive less press attention. He argues that his richly rewarded commercial work is undertaken mainly to subsidise them. And he says he takes great care to avoid conflicts of interest: for example, doing no business in Israel or the Palestinian territories, to avoid damaging his credibility there as the quartet's representative.
The problem is, his credibility as a sort of freelance super-diplomat in the Middle East and elsewhere is damaged already. His almost unqualified support for Israel as prime minister, his crucial backing then for the invasion of Iraq, his fundamental agreement with the bellicose foreign policy of George Bush – all this historical baggage follows Blair around. "It would be hard for him to move into working for more liberal international institutions," says a former ally, "because he's toxic."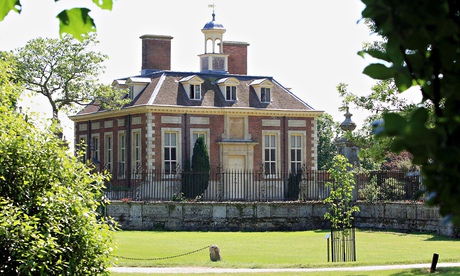 Nor does Blair show much sign of having thought afresh about the shape of the world since leaving office. Last summer, during the clamour for Britain to intervene militarily in Syria, he was one of the loudest hawks. Ed Miliband ignored him. In much of its foreign and domestic policy, Labour is moving politely but firmly away from Blairism now. Miliband's populist leftwing attacks on capitalist "predators" contrast with Blair's insistence in A Journey that during the financial crisis "the 'market' did not fail". Later in the book he adds: "The danger for Labour [after losing the 2010 election] is that we … move decisively … to the left. If we do, we will lose even bigger next time."
We will see. But for now the opinion polls suggest that Blair's warning may look foolish when the votes are counted in 2015. Either way, many in Labour have stopped listening to the man who led them to three handsome general election victories, and who was once one of the most popular figures in British political history. "People I know in the party don't think about him very much nowadays," McKibbin says.
Blair is only 60. One of his problems is probably that he left Downing Street too young. Callaghan was 67 when he stopped being prime minister in 1979. But British political leaders, like bosses in many fields, have become steadily younger since then. Just like Blair, David Cameron and possibly Miliband too will have decades to fill after the Downing Street removal van comes.
A well-connected New Labour source says: "Someone who knows Tony very well said to a friend of mine recently: 'He's very unhappy.' It's a false life he's leading. And the rich are boring. What has happened to Tony has elements of tragedy."
Other Blair-watchers see his trajectory differently. "I don't think what people think of him has ever worried him too much," says McKibbin. Blair's Connaught Square house is right next to Edgware Road, one of the centres of Arab London, and of potential outrage, at the very least, at his Middle East stances. Meanwhile the plush London offices of all his overlapping enterprises are right across from the US embassy in Grosvenor Square, as if to taunt critics who claim he is America's poodle.
Last month, Blair was eating with his family and some friends in a London restaurant when a barman working there, inspired by the website
arrestblair.org
,
tried to perform a citizen's arrest on him
, for "a crime against peace … namely your decision to launch an unprovoked war against Iraq". The Daily Mail
reported
: "Blair attempted to engage in a debate before one of his sons went to get security."
In private, ex-prime minister Blair may be tormented and unfulfilled, but in public he remains a smooth performer. Will that be enough?
爱尔兰总理突然宣布将辞职
爱尔兰总理埃亨执政10多年后本周突然宣布辞职,辞职背后的原因是一个以往的经济丑闻。
为解决英国北爱尔兰地区旷日持久的教派问题,埃亨和前英国首相布莱尔为此作出贡献而受广泛赞誉。如今,埃亨辞职的原因并非是北爱尔兰地区的暴力,也不是天主教和基督教派之间发生新争议,令他下台的原因还是个人财务问题。
埃亨被指责有腐败行为,将私人业务和公共项目混在一起。据称,他在90年代曾经收受过数笔现金。目前,一个调查委员会正在着手调查此事。
周三,埃亨在记者招待会上显得有些难过,作为总理执政11年后辞职不是一件易事。但是埃亨说,为了国家和政府的利益还是作出了这个困难的决定。
在记者招待会上,埃亨宣布今年5月6日辞去总理职位。这个日期是由他自己决定的。在此期间,他还会继续执政,并在都柏林会见日本客人。
埃亨今年56岁,成为爱尔兰议员已经有31年之久。他可以算是都柏林最成功的政府首脑,不仅仅是因为在解决北爱问题上的功绩。所以,栽在财务丑闻上是特别痛苦的事情。埃亨再次否认受贿。他说,在他内心深知道没有做错事情,而且对调查委员会不能证实他的违法行为有信心。
埃亨执政的爱尔兰政府由共和党、绿党和右倾的进步民主党组成。去年6月他第三次出任爱尔兰总理。
Taoi・seach
━━ n. (the ~) (アイルランドの)首相.


Ahern to resign as Irish premier
| | |
| --- | --- |
| | Mr Ahern told a news conference he will resign in May |
Irish Prime Minister Bertie Ahern has announced he is to resign on 6 May.
Mr Ahern, 56, has been taoiseach since June 1997 and has been a member of the Irish Parliament for 31 years.
The announcement comes a day after Mr Ahern began a court challenge to limit the work of a public inquiry probing planning corruption in the 1990s.
The tribunal is probing Mr Ahern's personal finances. Mr Ahern has been leader of Fianna Fáil since 1994 and heads the coalition government.
Mr Ahern told a news conference he would tender his resignation as both taoiseach and Fianna Fáil leader on 6 May.
tender
(謝辞などを)申出る.
I have never received a corrupt payment and I've never done anything to dishonour any office that I've ever held.

Bertie Ahern
Irish premier
He said: "The priority I put above all others was to work for peace on this island, and I have given all to that cause.
"I know in my heart of hearts I have done no wrong and wronged no-one.
"My decision is motivated by what is best for the people. It is a personal decision.
"I will not allow issues related to my own person to dominate the people and the body politic."
AHERN'S CAREER

1951: Born in Dublin

1977: First elected to the Dáil

1991-1994: Minister for finance

1994: Becomes Fianna Fáil leader

1997: Becomes taoiseach

2002: Re-elected

2007: Leads Fianna Fáil to third election victory, begins third term as premier
Mr Ahern said he had nothing to fear from on-going inquiries about his finances at the tribunal into planning corruption.
"While I will be the first to admit that I've made mistakes in my life and in my career, one mistake I've never made was to enrich myself by misusing the trust of the people.
"I have never received a corrupt payment and I've never done anything to dishonour any office that I've ever held."
office,Breviary
Mr Ahern will be remembered for his role in the negotiations leading up to the Good Friday Agreement of 1998.
When the talks at Stormont were in their crucial final stages, he returned from his mother's funeral to rejoin the negotiations.
He said on Wednesday: "The Good Friday Agreement now provides the political framework for the island to meet its full political potential."
HAVE YOUR SAY
I'll remember him as a good leader, whatever the inquiry brings to light
Sophie, Belfast
Mr Ahern has been the most successful politician in the Republic of Ireland since Eamon De Valera, winning three elections. He is Ireland's second-longest serving taoiseach.
BBC Northern Ireland political editor Mark Devenport described Mr Ahern's impending departure as "death by a thousand cuts".
"Bertie Ahern was coming under increasing pressure from the Mahon Tribunal," he said.
"I think he felt this wouldn't go away, and, if he didn't give a date for his departure, the Dublin media, in particular, would be relentless."
'Dynamic Europe'
READ THE FULL STATEMENT




Most computers will open this document automatically, but you may need Adobe Reader
Politicians on both sides of the border have paid tribute to Mr Ahern.
Irish President Mary McAleese said: "His contributions to our thriving economy and to peace in Northern Ireland were hugely important."
Prime Minister Gordon Brown said he had made an "historic contribution in helping to bring peace to Northern Ireland, transforming Ireland's relationship with the UK, and playing a key role in the development of a forward looking and dynamic Europe".
Former Prime Minister Tony Blair said: "He will always be remembered for his crucial role in bringing about peace in Northern Ireland, for transforming relations between Britain and the Irish Republic and for presiding over a sustained period of economic and social advance in Ireland."
Sinn Fein President Gerry Adams said: "He is justifiably proud of the fact that he was the taoiseach who was in place and who, with the British prime minister and the rest of us, brought about the Good Friday Agreement and he deserves our thanks for that."