https://en.wikipedia.org/wiki/Tarō_Asō‎
麻生 太郎. Taro Aso in World Economic Forum Annual Meeting in Davos (cropped).jpg. Asō at the 2009 World Economic Forum. Deputy Prime Minister of Japan.
Japanese government minister's Nazi remarks cause furor
August 2, 2013 -- Updated 1206 GMT (2006 HKT)
(CNN)
-- Japan's deputy prime minister stirred controversy this week by appearing to suggest that the government could learn from the way that Nazi Germany changed its constitution.
The remarks by Taro Aso, who is also the Japanese finance minister, provoked criticism from Japan's neighbors and a Jewish organization in the United States.
Aso, a former prime minister who has slipped up with verbal gaffes in the past, retracted the comments later in the week but refused to apologize for them or resign, saying they had been taken out of context.
Amid persistent talk in Japan about revising the country's pacifist post-war constitution, Aso set off the controversy at a seminar Monday, in which he said that discussions over constitutional changes should be carried out calmly.
"Germany's Weimar Constitution was changed into the Nazi Constitution before anyone knew," he said in comments widely reported by the Japanese media. "It was changed before anyone else noticed. Why don't we learn from that method?"
Aso added: "I have no intention of denying democracy. Again, I repeat that we should not decide [constitutional revisions] in a frenzy."
In 1933, Adolf Hitler's National Socialists turned the democratic Weimar Republic into a dictatorship using "a combination of legal procedure, persuasion, and terror," according to the U.S. Library of Congress.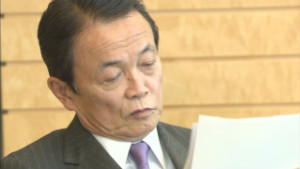 January: Deputy PM's 'die quickly' blunder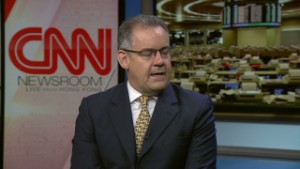 Japan PM victory can bring new reforms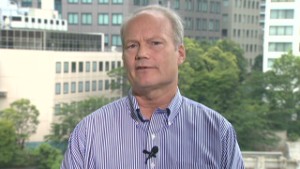 Will Abenomics succeed?
Hitler used a fire that burned down the parliament building as a pretext to suppress the opposition through an emergency clause in the constitution. He then pushed through the Enabling Act, which allowed him to govern without parliament and vastly extend the Nazis' grip on power.
Words that hurt
Aso's apparent reference to those changes drew expressions of concern from the governments of China and South Korea, two countries that suffered heavily under Japanese imperial aggression during World War II, a conflict in which Japan was allied with Nazi Germany.
Beijing and Seoul are already wary of Japan's hawkish prime minister, Shinzo Abe. His campaign platform for elections last year included measures aimed at restoring Japanese national pride such as revising the constitution to give the country's self-defense forces the status of a regular army.
Abe's party now has control of both houses of parliament. But it remains unclear if he will take on the difficult, controversial challenge of constitutional change, which would require a two-thirds majority in both chambers.
Hong Lei, a spokesman for the Chinese foreign ministry, said Wednesday that Aso's comments mean that other countries need to step up their vigilance over the direction in which Japan is headed.
China and Japan are locked in a tense territorial dispute over a set of small, uninhabited islands in the East China Sea that has fueled nationalist sentiments in on both sides.
South Korea, meanwhile, called for "prudence" from Japanese political leaders.
"Such comments definitely hurt a lot of people," Cho Tai-young, a foreign ministry spokesman, said Tuesday.
And the Simon Wiesenthal Center, a Jewish human rights organization based in Los Angeles, demanded that Aso immediately clarify his remarks.
"What 'techniques' from the Nazis' governance are worth learning — how to stealthily cripple democracy?" asked Rabbi Abraham Cooper, an associate dean at the center.
"The only lessons on governance that the world should draw from the Nazi Third Reich is how those in positions of power should not behave," Cooper
said in a statement Tuesday.
'Great misunderstandings'
Aso responded Thursday to the criticism over his comments, which also came from opposition lawmakers in Japan, saying he regretted that the remarks had "caused great misunderstandings despite my true intentions."
He said that he had referred to the Nazi takeover of power as a "bad example" of constitutional revision because changes were forced through "in a commotion." They should be done through calm debates instead.
"I believe it is obvious that I feel extremely negatively about Nazi Germany, if you consider the entire context," he said. "However, since these remarks have caused serious misunderstandings, I would like to retract them."
Japanese Cabinet Secretary Yoshihide Suga told a news conference the same day that "the Abe administration definitely does not view Nazi Germany positively and I am sure Vice Prime Minister Aso himself does not either."
"Aso's comment about Hitler and the implication that his example should be followed are utterly unacceptable," the Asahi Shimbun, a daily newspaper,
said in an editorial Friday.
" The remark is not something that Aso can get away with by simply retracting it."
******
Theodore Solotaroff, Founder of The New American Review, Is Dead at 80
Theodore Solotaroff, who in 1967 started The New American Review as a highly unusual showcase for a rising generation of writers, including
Philip Roth
, William H. Gass and Mordecai Richler in just the first issue, died on Friday at his home in East Quogue, N.Y. He was 80.
Skip to next paragraph
Virginia Solotaroff/W.W. Norton
The cause was complications of pneumonia, said his son Jason.
The New American Review, which dropped the "New" along the way, operated as a kind of open house for fiction writers and practitioners of the new journalism. A literary journal produced as a paperback book (with a paperback price), its first issue offered readers the work of 29 writers, not only fiction but also nonfiction by Conor Cruise O'Brien, Stanley Kauffmann and Theodore Roszak.
For the next decade, with many a financial hiccup, The New American Review, whose back-cover blurb proclaimed it "a writer's magazine for the new literary audience," presented Americans and scattered foreigners (including the then-unknown
Ian McEwan
), as well as cultural journalism. Nearly all of it was filtered through the fine-tuned sensibilities of Mr. Solotaroff.
Its politics, if it had any, were vaguely liberal, its aspirations lofty but nonspecific.
In an editor's note, Mr. Solotaroff announced that his publication would studiously avoid "the tendency toward cult and coterie by which literary magazines usually define their particular territory and assert their standards." It would not be, in other words, Partisan Review or Commentary. Instead, with mass-market print runs of more than 100,000, it would appeal to an untapped audience ready to savor the finest in current fiction and journalism executed with literary flair. Mr. Solotaroff believed, incorrectly, that this formula could be a paying proposition.
Issued three times a year, The New American Review was less a magazine with recognizable departments and columnists than a rolling literary anthology that accommodated fiction writers as diverse as
Donald Barthelme
,
Michael Herr
,
E. L. Doctorow
,
Harold Brodkey
and
Robert Coover
. In its pages, readers encountered Kate Millett on sexual politics,
Norman Mailer
on Henry Miller, A. Alvarez on
Sylvia Plath
and Michael Rossman on the spiritual satisfactions of building your own geodesic dome.
Mr. McEwan, in a blurb he wrote for Mr. Solotaroff's essay collection "The Literary Community," said that "as the most influential editor of his time, he shaped not only the tastes, but the direction of American writing."
Theodore Solotaroff, known as Ted, was born and raised in Elizabeth, N.J., where his father owned a plate-glass company that yielded scant income during the Depression. A tyrant of mythic proportions, Ben Solotaroff brutalized his sensitive, artistic wife, Rose, and beat Ted, often threatening "to break your spirit once and for all," Mr. Solotaroff recalled in his first memoir, "Truth Comes in Blows."
Both parents left their mark. "He was an odd combination of ferocity and tenderness," said his son Paul, a senior writer for Rolling Stone and Men's Journal. "His sons saw the former and his writers the latter."
After serving in the Navy after high school, Mr. Solotaroff, a rabid sports fan, entered the
University of Michigan
, whose football games he had often listened to on the radio. He played basketball as a freshman and earned a degree in English.
He also married a fellow student, Lynn Ringler. The marriage ended in divorced, and she died in 1994. His marriages to Shirley Fingerhood and Ghislaine Boulanger, both of Manhattan, ended in divorce.
In addition to his sons Paul, of Brooklyn, and Ivan, of New Town, Pa., both from his first marriage, he is survived by his sons Jason, of Montclair, N.J., from his marriage to Ms. Fingerhood, and Isaac, of Brooklyn, from his marriage to Ms. Boulanger; his wife, Virginia Solotaroff of East Quogue; a brother, Robert, of Minneapolis; and six grandchildren.
After college, Mr. Solotaroff headed to New York to make his way as a writer. Instead he waited tables. Discouraged, he entered the
University of Chicago
and had nearly completed a dissertation on
Henry James
when fate derailed his planned academic career.
Mr. Roth, a fellow student, recommended him to the editor of The Times Literary Supplement, who wanted an essay on American Jewish writers. Mr. Solotaroff's contribution caught the eye of
Norman Podhoretz
, the editor of Commentary, who hired him as an editor at the magazine in 1960.
After several years at Commentary (which was steering politically rightward under Mr. Podhoretz and whose internal dramas provided the backdrop for a further volume of memoirs Mr. Solotaroff was writing at the time of his death), he became editor of Book Week, the Sunday book supplement of The New York Herald Tribune.
When The Herald Tribune closed, in 1966, Mr. Solotaroff found work at the New American Library, a publisher of quality paperbacks. There he proposed a thick literary magazine along the lines of The Anchor Review, once published by Doubleday, and New World Writing, published by the New American Library in the 1950s. Stanley Moss was hired as its poetry editor, succeeded by Richard Howard.
Although a critical success, the magazine struggled financially. In 1970 New American Library withdrew its support. Simon & Schuster and later Bantam stepped into the breach, but in 1977, with Issue No. 26, the magazine breathed its last, after publishing the work of 500 different writers, 200 short stories, 300 poems and 130 essays.
Mr. Solotaroff went to work as an editor at Harper & Row, now HarperCollins, where he edited
Russell Banks
,
Sue Miller
, Max Apple and
Bobbie Ann Mason
. Ms. Mason, in a telephone interview, called him "one of the last of the great editors," someone who "cared about every line."
After retiring, he worked on his memoirs. A second installment, "First Loves," appeared in 2003. His essays have been collected in several volumes, including "The Red Hot Vacuum" and "A Few Good Voices in My Head."
"He had very high expectations of himself," said his son Jason. "Unfortunately these extended to the golf course. He could never believe that he hit the ball as badly as he did."