Nicholas

Donabet

Kristof

(born April 27, 1959) is an American journalist, author, op-ed columnist, and a winner of two Pulitzer Prizes. He has written an op-ed ...
Sheryl

WuDunn

(born November 16, 1959) is an American business executive, writer, lecturer, and Pulitzer Prize winner. A senior banker focusing on growth ...
In The Quest To Make A Difference, 'A Path Appears'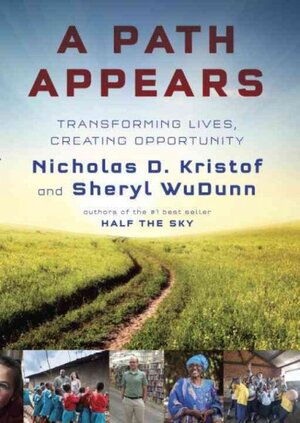 Transforming Lives, Creating Opportunity
Everyone wants to "make a difference" but with an overwhelming array of charitable causes and organizations, the question is: how?Journalists Nicholas Kristof and Sheryl WuDunn set out to find the answer in their new book, A Path Appears.
They profile a nurse in West Virginia who helps a teenage mother through the tough early days of parenting. And they tell the story of a woman in Africa who gets a small loan and starts a business that supports her family.
Kristof and WuDunn join NPR's Lynn Neary to talk about their pragmatic guide to facing some of the world's seemingly insurmountable challenges.
---
Interview Highlights
On how they maintain a sense of optimism in the face of daunting global problems
Nicholas Kristof: I spent several decades covering these stories and, over that time, you really do see progress ... especially internationally, vis-à-vis poverty. I mean, when I first traveled around in Africa, for example, I was really struck by the blindness everywhere. River blindness, trachoma, so many middle-age people who were unproductive and could not help. In these days, because of the work of Jimmy Carter on river blindness and trachoma, and so many others, middle-age, young people are not going blind anymore. So it sure feels to me as if there's progress, but we just need to accelerate that.
Sheryl WuDunn: I think it's important to remember, I mean, for centuries, we've had extreme poverty. But now, it is at the point where 20 percent of the world's population is in extreme poverty and, actually, eradication of poverty is within sight.
On clean cook stoves — and why they didn't live up to expectations
Kristof: Well, it's well known that open cooking fires, in much of the world, cause tremendous problems. The smoke from them causes all kinds of health problems, particularly for women who are doing the cooking. They consume wood in the area, they leave women who go and collect that wood vulnerable to sexual assault, kids drop out of school so they can collect the wood. So there are a whole range of problems with these open cook fires.
So scientists developed these enclosed, clean cook stoves that burn much less fuel and are healthier. And then they actually subjected them to a careful, randomized, controlled trial and found out that, while they were great in the lab, in real life, the villagers themselves didn't like them much, didn't use them, and they seemed to make no difference at all in the health of the women involved. ... That's an example of why we need to operate not just on hunches, but on evidence.
WuDunn: But I think it's also really important to note that it's OK to take risks. I mean, we now know that a certain kind of cook stove won't work. But if you never took that risk, you'll never know. And that's why we're not saying, wow, what a stupid idea, you never should have done that. We're actually saying, OK, we've taken a risk, we've tried this out, it doesn't work. Let's either abandon it or we'll try and come up with a better stove and see if it works.
On the difference between microsavings and microlending, and the story of Biti Rose, a woman in Malawi who used a small loan to help lift her family out of poverty
WuDunn: Microsavings is one of the most effective programs around. ... Biti Rose is an exceptional woman. She took the money and spent it very, very wisely. ... One of the reasons microsavings works better than microlending is that microsavings is ... using money that your friend gave you. So in other words, in a village, the women get together and they pool the money and they give it to one woman. They lend it to one woman — basically the function of a bank — but she's indebted to her best friends in the entire world, so if she lets them down, her world is shattered. So that's why there's a little bit more commitment.
On everyone wanting to be a social entrepreneur
Kristof: It's incredibly glamorous to start your own organization, and it looks great on your resume. But we have this flowering of thousands or millions of tiny organizations that never gain scale and, often, after five years or so, they kind of disappear because the founder loses their initiative and enthusiasm. So, look, we need startups found in garages, like Apple, and we also need large scale interventions, and I think right now there's just a little too much focus, especially among young people, on just starting their own thing. We also have to join existing enterprises and grow them.
On joining with existing organizations
Kristof: Too often, we think of making a difference as solving a problem, and it's not quite the same thing. For example, one of the issues that we talk about in A Path Appears is clubfoot, which is a birth defect that leaves children often crippled, unable to walk, unable to go to school, unable to get a job. They typically become beggars. And, look, one individual out there is not going to solve the global problem of clubfoot.
But we cite the example of one young woman in California who wrote a $250 check to an organization that deals with it, and we tracked that money down and looked at the recipient of it, a little girl named Rashida in Niger, and that $250 was enough to repair her clubfoot. And so she is now able to go to school and live a productive life. And that contribution is not going to solve the global problem. For that little girl, it is going to be utterly transformative.
Thunder from the East: Portrait of a Rising Asia/ China Wakes : the struggle for the soul of a rising power
亞洲無定義
Thunder from the East: Portrait of a Rising Asia (Paperback)
~
Nicholas D. Kristof
(Author),
Sheryl WuDunn
(Author)
"He must have been a raffishly handsome young man, with his bushy eyebrows, large coal-black eyes, high-cheekboned face, and thick mop of black hair dangling..." (more)
東方驚雷(BC0159)
Thunder from the East
類別:
社會‧文化‧傳記>教育
叢書系列:
歷史與現場
作者*:
紀思道、伍潔芳
Nicholas D. Kristof、Sheryl WuDunn
譯者:林添貴
出版社:
時報文化
出版日期:2003年
http://hcbooks.blogspot.tw/2010/01/thunder-from-east-portrait-of-rising.html
Fifteen Minutes with Nicholas Kristof
Fifteen Minutes: You're here for this question and answer event with President Faust, and she has said recently that she really wants to talk about the humanities. What can you say about your visit.
Nicholas D. Kristof '81: Well, I'm always glad to find an excuse to come up here, and I think that often the president has spoken to the students as a welcome. I remember Derek Bok did that when I was a freshman, and I have no recollection of what he said, and so I hope we can have a conversation that will get at the questions student want to ask.
FM: Did your recent columns about "why the humanities still matter" have any effect on what you'll say today?
NDK: I'm really just asking questions. I'm not really trying to make an argument to students, but I do worry that partly because everybody is so focused on making money, that there tends to be this drift to banking and to consulting that is great if its intentional but is unfortunate if its just mindless and by default.
FM: Do you worry that the state of your industry, the journalism industry, might be scaring away some young writers?
NDK: Absolutely. In journalism, we're in desperate need of a business model, a better business model, and the immediate people suffering are journalists, especially those at regional news organizations, but [also] in a larger sense, the public suffers if you don't have a local news organization aggressively covering the state capitol or city government. Then it's people in the state and in that city who are the losers.

FM: You're doing this interview without a public relations aide, or a minder as they are sometimes called. I'm sure you've run into public relations officials a lot in your day-to-day reporting, and they've certainly become more common in interviews. What do you think about that?
NDK: I suppose it's inevitable, because when somebody says something wrong, so to speak, then there are enormous consequences, so there tends to be a push and pull and newsmakers, especially corporate guys, tend to be more restrained and try to build in ground rules to require double checking quotes, that kind of thing, and then journalists need to push back and say 'no, under those circumstances, we don't want to do it.' And that kind of push and pull has been going on for decades and it also involves Washington and the White House and so on. They always want to brief journalists off the record, and we always want to get quotes, and I think we journalists often have leverage that we don't fully use.

FM: Okay, we want to address the small elephant in the room, which is the middle initial. You wrote a column a couple years ago about why you don't use it anymore. Obviously it is a tenet of Crimson style. Can you tell us more about that decision?
NDK: There's a tradeoff there between precision and kind of a colloquial tone, and there's a real value to including middle initials, but I do think that, in journalism, we have to try a lot harder to fight for our audience, to be conversational, and since I'm unlikely to be mixed up with any other Nicholas Kristof, it seems to me that the middle initial—the New York Times already comes across as a stuffy, guy somewhere scratching his chin, and a little bit out of touch. And a middle initial, perhaps at the margin, adds slightly to that. Now, I suppose if I were to become Nick Kristof, like I am on Twitter, that would also go some way in that direction, but just taking out the middle initial seemed to be a useful compromise. I wouldn't want to impose that on everybody, but I do think that in journalism, we probably should try to become a little more conversational, and that means more contractions, shorter sentences, less stuffy writing, and sometimes, maybe, more nicknames and fewer middle initials.
FM: What are your journalistic products outside of your columns right now?
NDK: I can't do anything without my wife, so Sheryl [WuDunn] and I have a new book coming out September 23rd, although we actually have a signing after the talk. Normally, you can't really do a signing until after the book is released, but we got special permission from Random House, you know, for my old college, so they released the book to the Harvard Book Store this afternoon to have a signing this afternoon, so that's the big new project, a new book about basically how to make a difference, it's called "A Path Appears." We're talking about doing a mobile game in conjunction with that as well, and there will be a documentary of that coming out on PBS beginning in January.

FM: What do you think of Reuters' push to get stories under 500 words?
NDK: I think in general readers would like more shorter articles, and journalists like more longer articles, and that journalists have been winning the argument because they're doing the writing. I think we're all going to have to be a little more attuned to what readers want. It doesn't mean we have to pander. I care deeply about covering certain kinds of articles that don't have a natural constituency, but if you care about those kinds of stories, then it's even more important that you figure out ways of connecting them to an audience, whether it's with photos or video. I've dragged some celebrities along on trips, because I figure that maybe people will read about it if George Clooney is there... Just trying to think of any way to get people to engage in these issues. I think it's got to be a buffet—you have to have all kinds of things—but in general I think a lot of stories can be shorter.

FM: We were with President Faust this morning, and she told us a story about how you were somewhere in the Arab Spring and came back to Cambridge by Saturday night for a Board of Overseers meeting. Can you tell us more about that?
N.D.K: That was Cairo. I was covering the Arab Spring.

FM: How did you get out?
N.D.K.: I had a flight booked to make it just in time to get to the Overseers meeting, and then they started arresting journalists, and so I moved hotel rooms and took a hotel room under a different name, an assumed name. I was sort of hiding out in that hotel room. I had to get smuggled out of Tahrir. I was in Tahrir Square—I had sneaked into Tahrir Square—and then the authorities had surrounded [the square], and some local guys inside smuggled me out. Somebody else got me a hotel room under a different name, and I was sort of hiding out in the hotel room, and then I was about to get a taxi, and I had to go over a bridge that I could see out of my window, and there were these thugs, these government-backed thugs that created this checkpoint on the bridge, and I thought, "Oh no." But they stopped some of the cars and they didn't stop my taxi. We got to the airport and [I] made it back. One of the ways they smuggled me out—they were looking for journalists, and as an Overseer, I have a Harvard ID. So I became a "visiting scholar," I was a scholar, and they wanted IDs, so I pulled out my Harvard ID.

FM: One last serious question before we get to the magazine-style things; we're running out of time. On that topic, a lot has been written recently with the James Foley, Steven Sotlaff situation. You're Nick Kristof, you're with The New York Times. I think it's fair to say you have a little bit more support when you go out in similar situations than freelancers. Can you talk a little bit more on that? You described a situation when you were in pretty realistic danger, but you got out, which obviously has not been the case for particularly the freelance journalists we've seen recently.
N.D.K.: First of all, there are all kinds of categories of people who face much greater risk, especially photo camera people, photo journalists. I can be a mile away listening to the gunfire. They have to be there when people are shooting each other to get the images. The people that so often I rely on are local translators or drivers. They take all of the risk and get none of the credit. There is some real safety value in having a blue passport. It becomes a higher pay grade decision to shoot you. I've seen that on a number of occasions. Certainly The New York Times helps. When I went to Syria, the Times had a security consultant, and he wouldn't let me go in as far, as deep into Syria as I liked. Thank God he didn't.

FM: Alright, it's hard to change tone, but the Magazine is relying on us. We sometimes ask freshmen what they think they'll be doing in 15 years for this rather controversial series which I think has been discontinued called "15 Hottest Freshmen." We ask them where they see themselves in 15 years. If you were a freshman, what would you have said?
N.D.K.: I think I would have said that I would go back to Oregon and maybe go into local politics. Yeah, I think that's what I would have said.

FM: Where would we find you on a Saturday night? Which might be a more difficult question for you, of all people. And remember, I think you're a freshman.
N.D.K: At a party trying desperately to be cool.

FM: Something you've always wanted to tell somebody?
N.D.K: I really don't know that I've had any great desire to tell people things. I'm really more in the asking business.

FM: Describe yourself in three words?
N.D.K: A bit nerdy.

FM: Your favorite childhood activity?
N.D.K.: Reading.