Guardian culture
The internet has responded to news of
Terry Pratchett
's death with Facebook posts, petitions, tributes from fans and colleagues, including
Neil Gaiman
and
George R.R. Martin
, and generous donations to his family's chosen Alzheimer's charity
Terry Pratchett Alzheimer's appeal raises £28,000 overnight
The internet has responded to news of the fantasy author's death with...
THEGUARDIAN.COM|由 ALISON FLOOD 上傳
BBC:"The world has lost one of its brightest, sharpest minds," said Larry Finlay of his publishers Transworld.
The author died at home, surrounded by his family, "with his cat sleeping on his bed", he added.
Sir Terry wrote more than 70 books during his career and completed his final book last summer.
1971年的大一英文老師要我們討論"安樂死" 。
40幾年過去了,同學們都有親人過世的經驗。有的甚至說,他回台灣探親的理由都沒了……
多少討論和知識,都沒有BBC這部Terry Pratchett: Choosing to Die 來得令人震驚和深思。
http://en.wikipedia.org/wi…/Terry_Pratchett:_Choosing_to_Die
公視的摘要
《死亡處方箋》.....
Fantasy author Pratchett dies aged 66
UK fantasy author Terry Pratchett dies aged 66 after a long battle with Alzheimer's disease, his publisher says
BBC.COM
Terry Pratchett in quotes: 15 of the best
As the literary world mourns the death of the Discworld creator, here are some of his most inspiring and memorable quotes. Add your favourites in the comments
Terry Pratchett, author of the Discworld series, dies aged 66
Share your tributes and memories here
Terry Pratchett
Terry Pratchett on an archive picture. Photograph: Eamonn McCabe/Eamonn McCabe
Thursday 12 March 2015 15.46 GMT Last modified on Friday 13 March 2015 00.08 GMT
Share on Facebook Share on Twitter Share via Email Share on LinkedIn Share on Google+
Shares
10,938
Comments
401
The whole of life is just like watching a film. Only it's as though you always get in ten minutes after the big picture has started, and no-one will tell you the plot, so you have to work it out all yourself from the clues. —from Moving Pictures
Real stupidity beats artificial intelligence every time. —from Hogfather
Terry Pratchett, Discworld series author, dies aged 66
Read more
I'd rather be a rising ape than a falling angel. —from the Guardian Book Club
It's not worth doing something unless someone, somewhere, would much rather you weren't doing it. —from the foreword to The Ultimate Encyclopedia of Fantasy, by David Pringle
Stories of imagination tend to upset those without one.
Fantasy is an exercise bicycle for the mind. It might not take you anywhere, but it tones up the muscles that can.
The presence of those seeking the truth is infinitely to be preferred to the presence of those who think they've found it. – from Monstrous Regiment
It's still magic even if you know how it's done. – from A Hat Full of Sky
There are times in life when people must know when not to let go. Balloons are designed to teach small children this.
Terry Pratchett: share your tributes and memories
Read more
The entire universe has been neatly divided into things to (a) mate with, (b) eat, (c) run away from, and (d) rocks.
If you don't turn your life into a story, you just become a part of someone else's story. – from The Amazing Maurice and His Educated Rodents
The truth may be out there, but the lies are inside your head.
Goodness is about what you do. Not who you pray to. - from Snuff
I have no use for people who have learned the limits of the possible.
So much universe, and so little time.
****
Revisiting Terry Pratchett's Discworld taught me why I love reading
In his Discworld series, Terry Pratchett gave us a 40-volume love letter to reading. I first read the books as a teenager, but rereading them as an adult has revealed how they shaped my tastes and taught me something about myself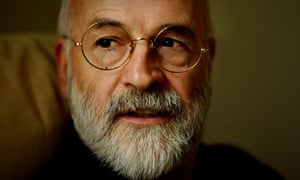 Pratchett has been on my mind for the past six months. I loved his Discworld series as a teenager, devouring each garish, Josh Kirby-designed paperback twice a year. I had been wondering recently how Pratchett had shaped my adult tastes, how he served as the bridge between my childhood spent reading Roald Dahl and Janet and Allan Alhberg, and the books I love now.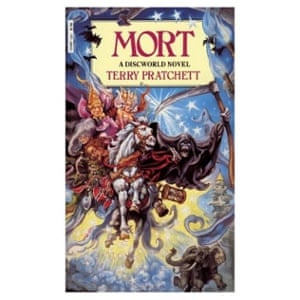 How much of my enthusiasm for the giddy intelligence of Donna Tartt and David Foster Wallace, or Nick Harkaway and Margaret Atwood's exuberant reimagining of what the fantastic can be, is traceable to my early immersion in Pratchett's world, which is famously carried on the shoulders of four elephants, stood on the back of a space turtle?
Since October, I have been reading Pratchett almost exclusively, and I have found out that my younger self had decent taste in books. When I first picked them up in the early 90s, I was attracted by the humour, the inspired puns, the fantastical and apocalyptic nature of the books (four of Pratchett's first five Discworld novels have a world-ending threat), and the sense that I was reading something a bit adult.
As the Discworld series evolved, its fantastical aspects faded into the background, with technology replacing magic. To Pratchett, there was little difference between the two. If a piece of paper with some ink can change the world and free a wrongly accused murderer (as in the plot of The Truth, his riotous examination of the newspaper industry), how is that any different from a rabbit being pulled from a hat?
Above all, what Pratchett gave us is a 40-book love letter to reading. Stories are what the Discworld were built on, with his characters using them to explain the chaos of the world. While embracing storytelling, he also showed us its limitations. He was critical of characters who don't live in the real world, but also showed how stories help us get one step closer to understanding.
Rereading Pratchett taught me that there is a lot to gain from going back to your old favourites. His humour, warmth and constant need to challenge the reader mean he is one of the very best authors the UK has produced.