PHOTOGRAPH BY BILL PIERCE/THE LIFE IMAGES COLLECTION/GETTY

Mario Cuomo's Finest Moment

Mario Cuomo was so impressive an orator that he had to title a collection of his speeches "More Than Words," lest anybody gets the wrong idea. The three-term New York governor, who died on Thursday at the age of eighty-two, resented the notion that he could speak better than he could govern. "People say, 'Well, he gives a good speech but there are homeless in the streets and the taxes are too high,' "

he complained

to the New York Times in 1993, the year the anthology was published. "If you do something extremely well . . . people will believe automatically that you can't do anything else." (Ineloquently, he called it "a variation of the dumb blonde syndrome.")

The greatest of Cuomo's speeches may well be his

lecture

at the University of Notre Dame, in September 1984, on Catholicism and public morality; in the thirty years since, few political speeches have approached that one in intellectual acuity. (Barack Obama's "race speech" during the 2008 campaign was one.) In it, he identified "a latitude of judgment" in Catholic teaching and rejected the notion, in the face of rising religious fundamentalism, that "our morality should be everybody else's," particularly when it concerned public-policy matters such as abortion and capital punishment. Cuomo's own favorite speech, perhaps tellingly, was the grim commencement speech that he gave in June 1984, at Iona College. Cuomo addressed—chastised, really—his fellow-parents, asking whether they had the right to instruct the graduates (who included his daughter Maria) on the value of serving others. "How do we tell them that one not be discouraged by the imperfection of the world and the inevitability of death and diminishment?" Though the Iona speech was "not a great" one, Cuomo later told William Safire, it "says best what is most important to me."

But the speech that most resonated in the national consciousness is without doubt Cuomo's keynote address at the 1984 Democratic National Convention, in San Francisco, the convention that marked Walter Mondale for annihilation later that year at the hands of the incumbent President, Ronald Reagan. The Cuomo keynote had much the same effect as the speech by Ted Kennedy at the Democratic Convention of 1980, where President Carter was resignedly renominated, or Reagan's remarks at the Republican gathering in 1976, after losing the nomination to President Ford. Cuomo stole the show, leaving the delegates with the sinking feeling that they had picked the wrong man. On the floor at the Moscone Center, unease about Mondale was so pronounced that a "Draft Cuomo" movement became a real, if mathematically remote, possibility; after giving his speech on July 16th,

Cuomo promptly skipped town

and stifled the prospect.

At the podium, Cuomo took, as his point of departure, the President's frequent reference to America as a "shining city upon a hill" (the phrase, which comes from the Sermon on the Mount, was brought to the Massachusetts Bay Colony by John Winthrop, in 1630; Reagan later applied the shine). "The hard truth," Cuomo said at the start of his speech, "is that not everyone is sharing in this city's splendor and glory." There is, he said, another part of the city—a part where "there are more poor than ever, more families in trouble, more and more people who need help but can't find it," where people sleep in the streets, "in the gutter, where the glitter doesn't show." America, in Cuomo's telling, was less a city on a hill than "A Tale of Two Cities," and the touch of Queens in the way he said "gutter" made clear which of these two cities Cuomo came from, and which he spoke for.

There was a seriousness, even a severity, to Cuomo's delivery. Still, it was an impassioned performance, and, as James Reston of the Times rated it, a "brilliant" one, "with every word, gesture, expression and pause in harmony." Garry Wills saw in Cuomo the "moral urgency" of the black preacher; and this address, like so many of Cuomo's speeches, was a sort of civic sermon. It inveighed against the evils of Reaganism—"a kind of social Darwinism" that held that "the wagon train will not make it to the frontier unless some of the old, some of the young, some of the weak are left behind by the side of the trail." Democrats, Cuomo said, thought the wagon train could get there with "the whole family aboard," and with room to "extend and enlarge that family" along the way.

That metaphor—the nation as a family—was a favorite of Cuomo's, and, though it's as timeworn and trite as a trope can be, Cuomo gave it new meaning—as a moral summons, as a philosophy of government, and as a rejoinder to Reagan's emphasis on the individual above all. "We believe in a single fundamental idea that describes better than most textbooks and any speech that I could write what a proper government should be: the idea of family, mutuality, the sharing of benefits and burdens for the good of all, feeling one another's pain, sharing one another's blessings—reasonably, honestly, fairly, without respect to race, or sex, or geography, or political affiliation," Cuomo declared. "We believe we must be the family of America, recognizing that at the heart of the matter we are bound one to another." This, he said, was the Democratic credo: "We believe in only the government we need, but we insist on all the government we need."

On the floor, the speech brought catharsis. It was all the things that Democrats wished themselves to be but no longer felt they were as a party. It was bold, in its willingness to take on a popular President directly; it was unapologetic, stating its beliefs clearly and without equivocation; it drew its indignation from some inner store of strength and conviction, not from mere calculation. "Some old-timers said it was the greatest political speech they had heard," wrote theTimes columnist Anthony Lewis. "It was as electrifying as any I remember, and I have been going to political conventions for thirty years." Cuomo's speech underscored just what was missing in Mondale, who, in November, nearly managed the feat of losing all fifty states to Reagan.

Cuomo's performance, coupled with Mondale's loss, rendered the Governor an instant front-runner for the next Democratic nomination. Cuomo ceded that opportunity—and, with it, much of his influence—in February 1987, when he declined, inexplicably, to run. He pulled back again in December 1991. The Democrats chose, in his stead, two successive anti-Cuomos. In 1988, Michael Dukakis heralded "competence" as a core value, like a man running to be the nation's chief operating officer. In 1992, Bill Clinton galvanized the middle class, as Cuomo had, but challenged the orthodoxies that Cuomo by then had come to represent: chiefly, the old Democratic faith in the efficacy of government. That impression cost Cuomo some measure of his popularity—and, with it, his bid for reëlection in 1994, to a state senator named George Pataki. "I think a lot of people are saying government doesn't appear to be using my money well, therefore I resent their taking it,"

Cuomo reflected

a few days after his defeat. A decade after his triumphal appearance in San Francisco, he had come to seem like something of an anachronism.

No longer, it seems. The nation's economy is growing today, as it had been in 1984 when he gave his speech. But for many Americans, what

Mario Cuomo called

"the struggle to live with dignity" remains our defining challenge. It is "the hard substance of things." Its stubborn persistence is why we hear, increasingly, echoes of Cuomo in the ardency of Elizabeth Warren and other Democrats; Mayor Bill de Blasio, of New York, has even revived "a tale of two cities." These echoes affirm what Daniel Patrick Moynihan said about Cuomo's convention speech: "He created a memory." Now that Cuomo has died, it is the work of his extended family—the country—to determine what that memory means for our future.


















Mario Cuomo embodied our hopes for a liberal presidency that never was
His famous 1984 address gave a defeated Democratic party an identity even as the reluctant New York governor avoided the pull of a presidential run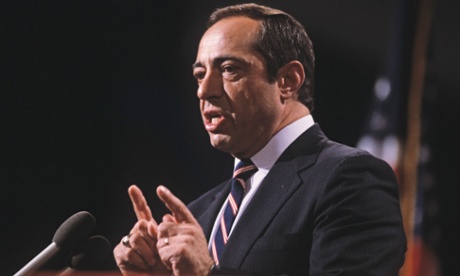 At the 1984 Democratic Convention in San Francisco – a wan gathering of a doomed political party – New York governor Mario Cuomo delivered a full-throated liberal response to triumphant President Ronald Reagan. Eloquently challenging conservative go-it-alone economics, Cuomo defined the Democratic Party's credo as the shared obligations of a family: "We are bound one to another."
Cuomo's oration
, which produced visible tears among Democratic delegates, may well have been the greatest American convention address of modern times. Certainly, it ranks with a defeated Ted Kennedy's "the dream shall never die" speech in 1980 and the 2004 convention keynote address by a little-known Illinois state senator named Barack Obama.
Cuomo, who served three terms as governor but never moved beyond his flirtations with running for president, died on New Year's Day afternoon at age 82 from a heart condition. Although he was one of the longest-serving governors in New York history, his legacy has little to do with what he accomplished in office. Rather he is mourned today because of all the hopes that he embodied for a liberal presidency that never was.
Just five hours before this towering figure in late 20th-century politics died, his son and more politically moderate heir Andrew Cuomo delivered his second inaugural address as New York's governor. In his speech on Thursday, the younger Cuomo said, "He couldn't be here physically today ... but my father is in the room."
Unlike the old-money Bushes and the glamorous Kennedys, there was nothing about Mario Cuomo's origins to suggest that he would launch a political dynasty.
Too Italian-American and too outer-borough
Born in the depths of the Depression to immigrant parents from southern Italy who did not speak English, Cuomo grew up in Queens, a New York City borough filled with multi-ethnic strivers. He attended Catholic schools and then St John's University in Queens for his undergraduate education and law school. Despite being tied for first in his law-school class, Cuomo discovered that he was too Italian-American and too outer-borough to get a job with an elite Manhattan law firm.
These slights from 1950s America stayed with Cuomo all his life. Practicing law in Queens, he gained a reputation for successfully mediating a racially charged dispute over the size of a public housing development in 1972. Trying to use his news clippings as a springboard, Cuomo lost a statewide primary election for lieutenant governor in 1974 and then was defeated by Ed Koch in the contentious 1977 New York City mayoral campaign.
The emblematic moment in Cuomo's successful 1982 race for governor came in a televised debate when he called attention to his wealthy Republican rival's luxurious gold watch. Even as he reflected the resentments of middle-class New Yorkers, Cuomo became known as a governor who elevated principle over politics. During a crime-ridden decade, he challenged the simplistic belief in capital punishment and vetoed popular legislation to restore the state's death penalty.
But that was pretty much all that non-New Yorkers knew about Cuomo when he took center stage in San Francisco on 16 July 1984. Making a distinction between the two parties that still resonates 30 years later, Cuomo said, "The Republicans believe that the wagon train will not make it to the frontier unless ... the weak are left by the side of the trail ... We Democrats believe that we can make it all the way with the whole family intact."
In 1896, on the strength of a speech as powerful as Cuomo's, the Democrats nominated William Jennings Bryan for president. But by 1984, conventions no longer had a will of their own and had become television spectacles. Which is why Democrats in San Francisco dutifully stuck with Walter Mondale, who went on to lose 49 states to Reagan.
With that convention speech and, two months later, an adroitly argued
Catholic defense of abortion rights
at Notre Dame University, Cuomo created a national clamor for him to run for president as a liberal champion. But Cuomo took himself out of the running long before the 1988 campaign and the Democrats went on to lose their third landslide election in a row as George HW Bush routed Michael Dukakis.
But 1992 was Cuomo's year – or so the political touts thought. But the three-term governor dithered and delayed so much that he was ridiculed as "Hamlet on the Hudson." On the filing day for the first-in-the-nation New Hampshire primary, with a plane waiting on the tarmac to fly him there to hand in his nominating petitions, Cuomo bowed out for the last time.
What if...
Cuomo insisted (though it never sounded convincing) that he would have run if it were not for a budget impasse with the New York state legislature. And maybe he could have beaten Bill Clinton, even in a year when the Democrats looked south and to the center in choosing a nominee. But there was always the sense that the thin-skinned Cuomo, a politician who hated to travel, knew that his urban style and urbane rhetoric was not suited for a marathon national race for the White House.
Cuomo resisted one more turn of ambition's wheel: In 1993, he allowed Clinton to seriously consider him for the supreme court and then – in characteristic style – took himself out of the running at the last minute. Instead, he stubbornly ran for a fourth term as governor in 1994 and lost to George Pataki, a little-known state legislator, in that year's Republican tidal wave.
The enigmatic and sometimes exasperating Cuomo had a long career near the center of American political life. But his true moment of glory came at that otherwise-forgotten 1984 convention when he defined - for then and now - what it means to be a liberal.
Walter Shapiro has covered the last nine presidential campaigns. He is currently a lecturer in political science at Yale University and a fellow at the Brennan Center for Justice at NYU.