懷念 B.B. King
B B King Live At The Royal Albert Hall 2011 1080p HD
BB King dies in Las Vegas aged 89
King of the Blues who influenced a generation of musicians and won 15 Grammy awards, dies in his sleep at home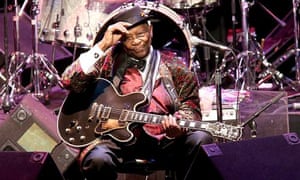 Blues legend
BB King
has died in Las Vegas at the age of 89, his lawyer has said.
Brent Bryson told the Associated Press King died peacefully in his sleep on Thursday at his home in Las Vegas. The Clark county coroner, John Fudenberg, confirmed the death.
The one-time farmhand brought new fans to the blues and influenced a generation of musicians with his heartfelt vocals and soaring guitar on songs such as The Thrill is Gone.
Nicknamed the King of the Blues, he sold millions of records worldwide and was inducted into the
Blues
Foundation Hall of Fame and the Rock and Roll Hall of Fame. He was awarded his 15th Grammy in 2009 in the traditional blues album category for One Kind Favor.

Although he had continued to perform well into his 80s, King suffered from diabetes and had been in declining health during the past year. He collapsed during a concert in Chicago last October, later blaming dehydration and exhaustion. He had been in hospice care at his Las Vegas home. King's eldest surviving daughter, Shirley, said she was upset she didn't have a chance to see her father before he died.
For most of a career spanning nearly 70 years, Riley B King was a mentor to scores of guitarists, including Eric Clapton, Otis Rush, Buddy Guy, Jimi Hendrix, John Mayall and Keith Richards. He recorded more than 50 albums and toured the world well into his 80s, often performing 250 or more concerts a year.
King played a Gibson guitar he affectionately called Lucille with a style that included beautifully crafted single-string runs punctuated by loud chords, subtle vibratos and bent notes. He didn't like to sing and play at the same time, so he developed a call-and-response between himself and Lucille.
"Sometimes I just think that there are more things to be said, to make the audience understand what I'm trying to do more," King said in 2006. "When I'm singing, I don't want you to just hear the melody. I want you to relive the story, because most of the songs have pretty good storytelling."
A preacher uncle taught King to play, and he honed his technique while living in abject poverty in the Mississippi Delta, the birthplace of the blues.
"I've always tried to defend the idea that the blues doesn't have to be sung by a person who comes from Mississippi, as I did," he said in the 1988 book Off the Record: An Oral History of Popular Music. "People all over the world have problems. And as long as people have problems, the blues can never die."

But the delta's influence was undeniable. King began picking cotton on tenant farms around Indianola, Mississippi, before he was a teenager, being paid as little as 35 cents for every 100 pounds, and was still working off sharecropping debts after he got out of the army during the second world war
"He goes back far enough to remember the sound of field hollers and the cornerstone blues figures, like Charley Patton and Robert Johnson," the ZZ Top guitarist Billy Gibbons once told Rolling Stone magazine.
King got his start in radio with a gospel quartet in Mississippi, but soon moved to Memphis, Tennessee, where a job as a disc jockey at WDIA gave him access to a wide range of recordings. He studied the great blues and jazz guitarists, including Django Reinhardt and T-Bone Walker, and played live music a few minutes each day as the Beale Street Blues Boy, later shortened to BB.
Through his broadcasts and live performances, King quickly built up a following in the black community, and recorded his first R&B hit, Three O'Clock Blues, in 1951.
He began to break through to white audiences, particularly young rock fans, in the 1960s with albums such as Live at the Regal, which would later be declared a historic sound recording worthy of preservation by the Library of Congress' National Recording Registry.

King was inducted into the Blues Foundation Hall of Fame in 1984, the Rock and Roll Hall of Fame in 1987 and received the Songwriters Hall of Fame Lifetime Achievement Award in 1990. He received the Presidential Medal of Freedom from George W Bush, gave a guitar to Pope John Paul II and had President Barack Obama sing along to his Sweet Home Chicago. He further expanded his audience with a 1968 appearance at the Newport folk festival and when he opened shows for the Rolling Stones in 1969.

Through it all, King modestly insisted he was simply maintaining a tradition: "I'm just one who carried the baton because it was started long before me," he said in 2008.
Born on 16 September 1925, King was raised by his grandmother after his parents separated and his mother died. He worked as a sharecropper for five years in Kilmichael, an even smaller town, until his father found him and took him back to Indianola.
"I was a regular hand when I was seven. I picked cotton. I drove tractors. Children grew up not thinking that this is what they must do. We thought this was the thing to do to help your family," he said.
When the weather was bad and he couldn't work in the cotton fields, he walked 10 miles to a one-room school before dropping out in the 10th grade.
When he wasn't recording, King toured relentlessly, playing 342 one-nighters in 1956. After he turned 80, he vowed to cut back, and he did, to about 100 shows a year.
King had 15 biological and adopted children. Family members say 11 survive.